Oooh, ooh, I think I might be 2/3 finished! My first guess at how long this would take was 60 days, and it may be that or even less. My hope is to have it look finished, and then have lots of time to dink around and improve and perfect and of course, hide a few things. Today the Mural Team was in town sealing murals with some magic stuff that is supposed to brighten the colors and slow down the UV damage. They had a very good lunch and invited me. This is the second time I have actually taken a lunch break – the first time was yesterday. Careful, a slothful pattern could be developing here!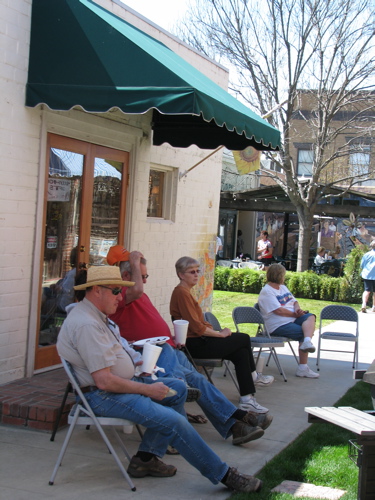 The lunch took place in front of my former studio. I sat on the brick step, because I paid for that thing, doggonit!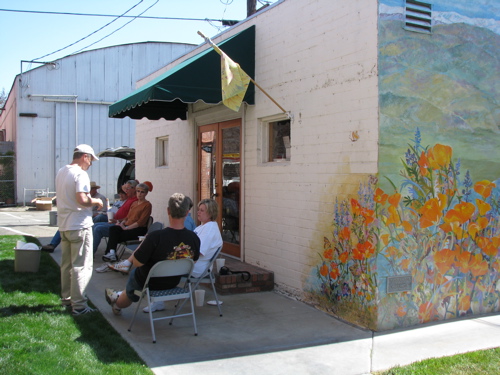 My old studio was inside my favorite mural at the time – such a wonderful location. Today was the only day in 7 years that I felt a little sad about not being there anymore. It is now part of Rosemary & Thyme, a WONDERFUL store.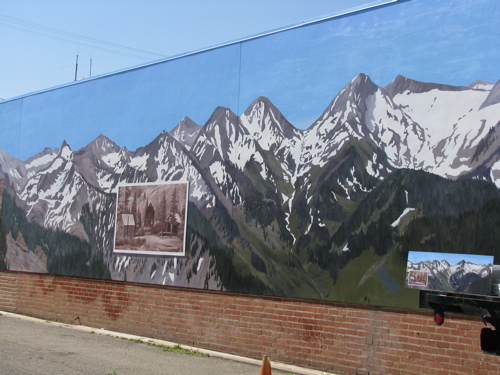 Okay, isn't this interesting? You can see 1/3 of the model painting (called a "maquette") on the right. This is the first time I have seen it since handing it over to the Mural Team back in January. The colors seem more accurate to real life on the mural itself than in the maquette. It was very helpful to have it there today – got some weird shapes sorted out by looking at it instead of the complicated photographs.