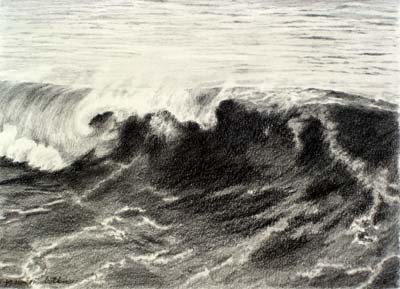 One day this week in drawing lessons, I was helping a man draw a flowing creek when an "aha!" moment occurred.
I have often said that water is almost ALWAYS horizontal, and another student wanted to know how to discern the few times it is vertical. My breakthrough was the realization that the strokemarks reflect the surface plane of the water. If the surface of the water is horizontal, the strokemarks are also. If the surface plane is vertical, as in a waterfall or a breaking wave, the strokemarks are vertical.
To those of you who have been drawing for awhile, that probably sounds more like a "duh" than an "aha". My excuse is this: verbalizing intuitive visual actions is actually much harder than just demonstrating those actions. To teach effectively, one has to explain both the why and the how, and that is impossible unless one knows those things. Duh!